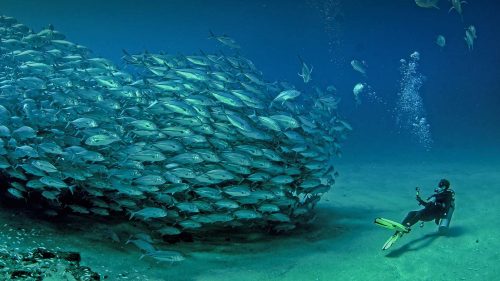 5 night Sea of Cortez Getaway - Sea of Cortez
The Sea of Cortez is an interesting place. We started diving here many years ago when giant mantas were common and multiple schools of hammerhead sharks would swirl around El Bajo. Commercial fishermen hit the place really hard in the 1990's before the government of Mexico enacted exclusionary zones and marine protected area. Our beautiful sea has come back to life but it is different than before. Whale sharks are still resident seasonally off La Paz. The sea lions at Los Islotes were never impacted. Humpback whales still show up every winter. And the huge schools of panamic fish are as abundant as ever before. We are seeing hammerhead sharks at El Bajo and Los Animas and mantas at La Reyna although not as abundantly as before. We finally figured out where the humboldt squid are and it's quite a trek to get there! We discovered the stunning number of whale sharks at Bahia de Los Angeles in the northern sea of cortez. And there is an excellent chance of seeing bull sharks at Cabo Pulmo. It's not Socorro. It's not Guadalupe Island. The Sea of Cortez is a unique and different destination with it's own charm - and generally calm water - albeit not the same number of big animals as our other destinations. We welcome the opportunity to give you more information and ensure that we meet your expectations.
Sep 17 - 22, 2023
6 days on the Nautilus Under Sea
10 berths available
USD $1795*
Oct 15 - 20, 2023
6 days on the Nautilus Under Sea
6 berths available
USD $1795*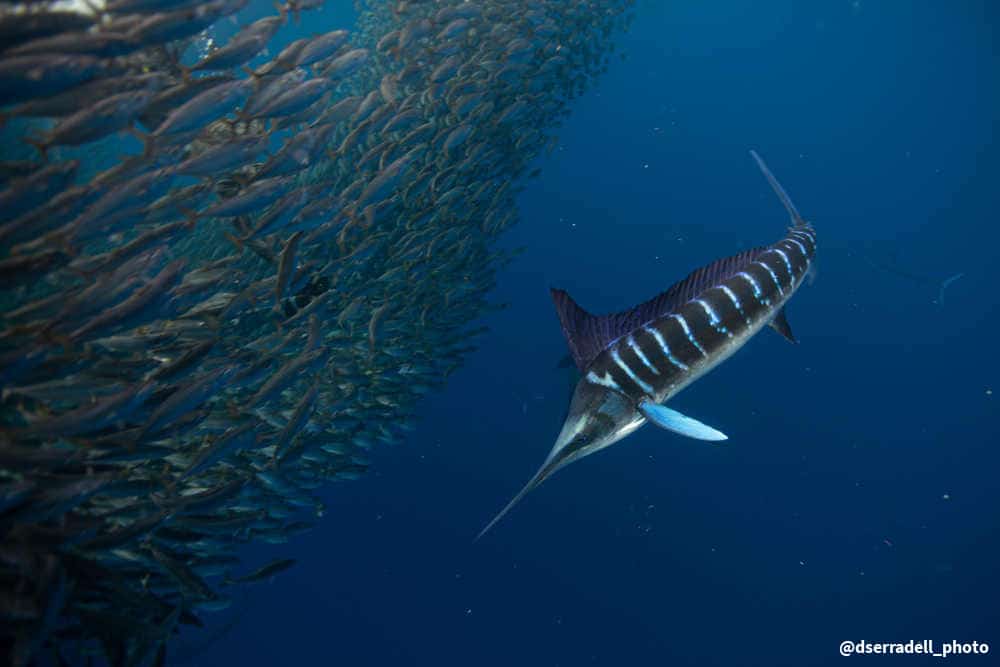 Magdalena Bay Sardine Run - Magdalena Bay Sardine Run
During October and November, a magical event happens in the nutrient rich swirling blue waters off Magdalena Bay where striped marlin gather to hunt on the second largest sardine run in the world. This thrilling underwater action is spectacular. There is an excellent chance of also seeing california sea lions, dolphin, wahoo, pelicans, different species of gulls, boobie birds, frigate birds, shearwaters and even the awe inspiring albatross. While it's best to snorkel or free dive around the bait balls there will be plenty of scuba diving opportunities on your week long trip with massive schools of fish, turtles and the wreck of a WW1 submarine and the passenger steam ship SS Independence. But wait, there is more! Humpback whales are on the move at this time of year and if we are really lucky, we might even see orcas or blue whales!
Oct 15 - 22, 2023
8 days on the Nautilus Explorer
9 berths available
USD $2995*
Oct 22 - 29, 2023
8 days on the Nautilus Explorer
15 berths available
USD $2995*
* Trip Prices do not include taxes or a $65 per person port and park fee payable in cash ($35 park/landing fee for San Ignacio Lagoon)